Our final 2019 Borrowers of the Year are two amazing young musicians aged 10 and 16. Both are working exceedingly hard and their successes are so well deserved. What fantastic achievements these two young people have made - the Instrument Loan Scheme is very proud that you are our Christmas 'Star Borrowers'.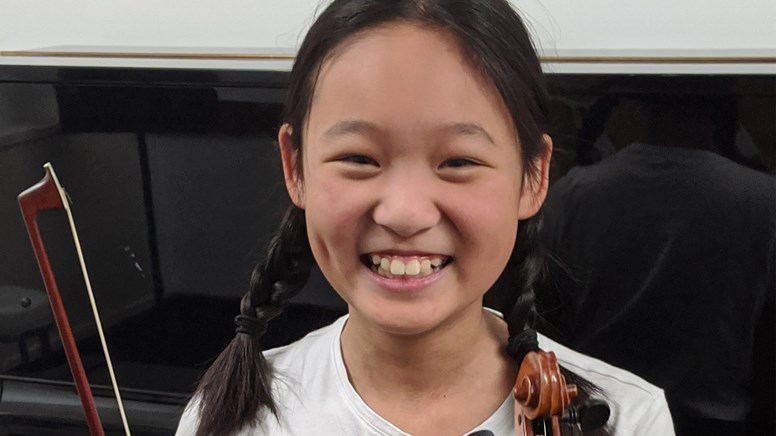 10 year old violinist Vivienne has just heard that she has been successful in winning a place in the National Children's Orchestra of GB Under 10's. In addition, since September, she has passed her Grade 5 violin with Distinction, her Grade 5 Piano, grade 5 Theory and Grade 3 singing! She also plays in her local Intermediate Orchestra and will be taking part in the Milton Keynes Music Festival playing solo in the Bach D Minor Double Concerto next term.
Vivienne's mum Angela writes
"A BIG THANKYOU to Benslow MusicILS for gifting Vivienne this wonderful opportunity to make beautiful music with a high quality violin and bow. This is Vivienne's first time trying out for the NCO, and both she and I believe that she couldn't have done it without her Benslow violin and bow.

Our family is all very proud of her, not least because we're hardly musical and pretty much tone deaf. I do sometimes wonder if we'd taken home the wrong baby a decade ago!
A keen composer, Vivienne has very kindly sent us her two most accomplished compositions, one written last term for a group of classmates and a current piece - still a work in progress - is intended for her school orchestra.
Your passion for music is so evident Vivienne, and the progress you are making shows just how hard you are working and how committed you are to improving. It is lovely that you are inspired by your Benslow instrument. Thank you for sharing your compositions with us; there will be a link to them here very shortly so that readers can listen to them. So well done Vivienne - keep up the truly excellent work.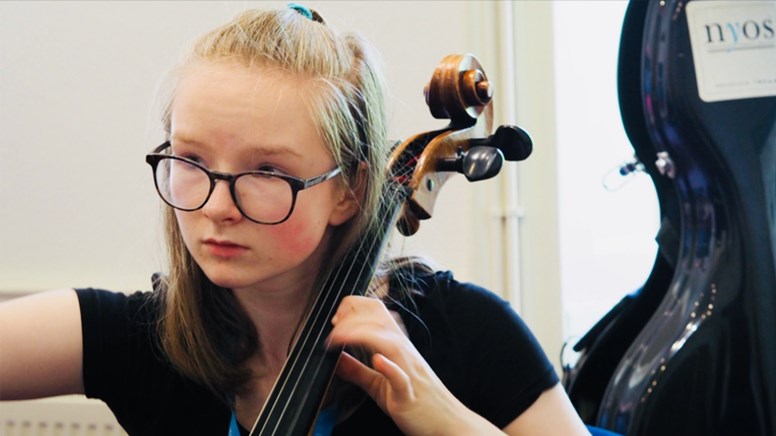 Cellist Annie Walton is 16 years old and attends Shawlands Academy in the South Side of Glasgow, where she is studying for Highers. She began playing the cello with school lessons aged 12, moving to lessons with Glasgow cellist Alice Allen before joining the Royal Conservatoire of Scotland (RCS) Juniors in 2017, where her teacher is Alison Wells.
Annie has been accepted into National Youth Orchestra of GB (NYO) for the 2020 season, which will tour England playing Shostakovich's 11th Symphony in January. In 2018 Annie played in the National Youth Orchestra of Scotland (NYOS) Seniors, touring Orkney and mainland Scotland with them in 2019. She is principal cellist in the Glasgow Schools Symphony Orchestra (GSSO), was in the West of Scotland Schools Symphony Orchestra and was part of the RCS/BBC Radio 3 Cello Weekend in February 2019. She was principal cellist in the advanced section of the Big Noise (Sistema Scotland) Event in October 2018 with Nicola Bennedetti and is also a member of Damhsa,a Glasgow-based world music group that combines Klezmer, traditional, French folk music and other styles.
Annie is aiming to develop her cello career by auditioning for a Conservatoire place in late 2020. She borrows a 19th century French cello that belongs to the Scheme and says
"Having such a high quality instrument has been so important to my development as a player and allows me to enjoy making music even more. I am extremely grateful to Benslow – every day I pick up my cello and feel glad that this support is there for young players.
To achieve this much in such a short space of time is nothing short of astonishing. Such dedication and commitment is wonderful to see. So many congratulations Annie. We are thrilled we are able to help.