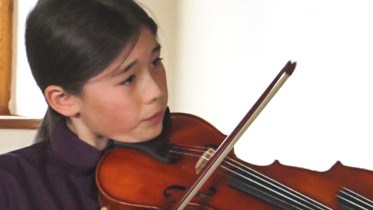 Anne-Mei started learning violin at school at the age of 7. She has attended Lewisham music hub and Bromley Youth Music Trust playing in the Sinfonia in a String Quartet. She lead the violins at the Saturday Strings and, starting in September, she will be going to the Royal College of Music Junior Department.
She has taken part in events with the London Philharmonic Orchestra at the Royal Festival Hall, where she played Mambo by Leonard Bernstein, and attended courses at Pro Corda where she has been coached by Sebastian Mueller and Shiri Rashkovsky. Anne-Mei has also played with the Southark Youth Orchestra.
Her current teacher is Julia Liang, but from September Anne-Mei will be going to RCMJD and will be taught by
Miriam Morley.