Having read about our fundraising campaign 'Raise the Roof' 11 year old borrower Millie Wood decided that she would like to help. She decided in December that she would like to put on a concert at her local church in Bromeswell, Suffolk.
Millie and her family moved to the village only a year ago and so, by knocking on doors selling tickets, she and her mum began to meet people they had never met before; some turned out to be musicians themselves, among them violin restorer Paul Gerrish and his wife Catherine.
Although the village church in Bromeswell is small it was packed, supported by villagers, relatives and friends, many of whom had never heard Millie play before. It was truly community-based.
Millie herself put together the programme and invited eight of the county's best string players to be involved; among them Laura Hussey, Leader of the Suffolk Youth Orchestra, also a Benslow borrower. Yalda Davis, daughter of the conductor Sir Colin Davis, performed as guest cellist.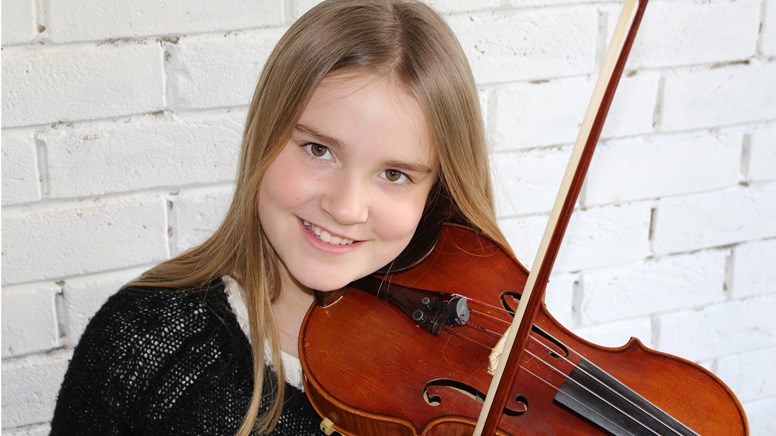 Millie's mum Fiona wrote to us afterwards and sent us her film of the event which we have edited to give a flavour of the event:
"We are so proud of Millie and the whole thing has been such an amazing experience for her. From our initial church visit, working out the logistics of where to perform, where to serve refreshments and cakes, finding enough crockery and an urn, how many tickets we could actually sell and cakes to subsequently make, [to] advertising in the local magazine, writing to the vicar and getting her to announce it in church and making a poster.
Organising this has really helped to develop her communication and organisational skills and forge new friendships with players significantly older than herself, giving her the opportunity to play with other string players who are at the same level. Indeed, to have the opportunity to demonstrate their skills by performing in public as a soloist or ensemble player is a rare treat as its mainly in an orchestral environment.
She delivered a welcome speech explaining all about the Benslow Music Instrument Loan Scheme that preceded an hour of absolutely GORGEOUS music of such a high standard. They all played so beautifully.
The event has just been topped off with the phenomenal final figure coming in at £500!! Plus a donation to the church! We can't believe it, not bad for an 11 year old."
We are inspired by Millie's wonderful effort and incredibly grateful to her and are delighted to make her our truly deserving
February 'Borrower of the Month'.
Millie
You are a STAR!
.