January 2020 has produced a bumper crop of news from our Loan Scheme Borrowers who have written to tell us about their progress and busy musical lives:
Paul Docherty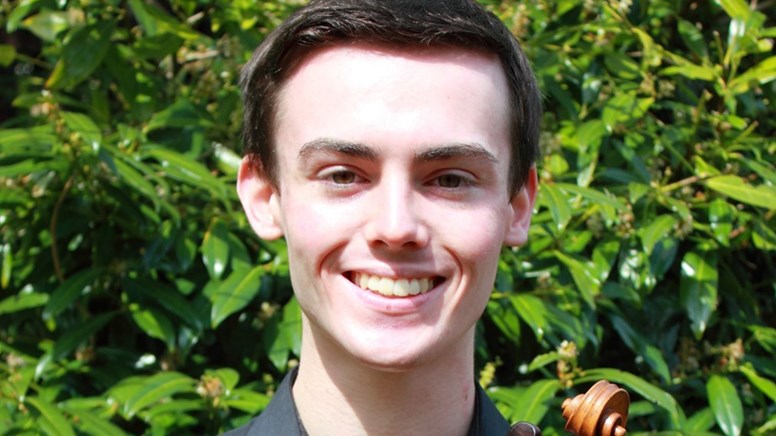 Starting our news round-up Violinist Paul Docherty wrote a lovely update to us about the wonderful journey he and his Benslow violin are having:
"Since I am approaching the end of my first year of my loan, I'm writing to update you on the progress I have made since I first started using the Henry Jay violin. This violin has been a joy to play on the past year and I've loved using it! It has such a rich and open sound and it has received many compliments. I first received the violin at the beginning of November, just before my college auditions, and I'm happy to inform you that I was accepted into all three of the institutions I applied to with on-spot offers from RNCM and RAM, as well as a scholarship offer from RNCM. After much consideration I decided to accept my place at the RCS and continue with my current violin teacher Professor Andrea Gajic. With this violin I have been leader of my school string and symphony orchestras and the East Renfreshire Schools' Symphony and String Orchestras as well as the West of Scotland Schools' Symphony Orchestra, where – as well as the 2018/19 concerts and events - I also led an incredible "Play to Learn" event in the Glasgow Royal Concert Hall with 1200 young musicians and Nicola Benedetti! I have also had much pleasure playing this violin at the Junior Conservatoire where I co-led the Symphony Orchestra and, through Juniors, I was also selected to participate in a masterclass with Nicola Benedetti! I also competed in the Glasgow Music Festival where I won the Violin Solos, Concerto, and Premier classes and was awarded both the St Mungo Challenge Trophy Certificate and the Grace Dick Memorial Prize! I was also invited to perform in a prestigious student concert at the RCS celebrating and showcasing talent at the Junior Conservatoire. Just last month I was invited to perform Vivaldi Double Violin Concerto as soloist with the Telemann Ensemble at Netherby Hall, and I have been invited to perform Bruch's Violin Concerto with Glasgow Sinfonia in the RSNO New Auditorium in May! Next year I am looking forward to helping at the Benedetti Sessions as a Benedetti Ambassador."
Carla Jacobs
Violist Carla Jacobs is studying for a BA in Music & Psychology at Liverpool Hope University. In the past year she has taken part in university concerts and ensembles and has played in the band for a university production of the musical "Cabaret". She has also played with Liverpool Philharmonic Youth Orchestra in the Liverpool Philharmonic Hall. Carla also helped raise funds for charity by recording the viola part on a Christmas Track with another student.
Carla plays a 16 ½" viola made by David Buchanan in 1946, kindly lent to the Scheme by Miss J Middlemiss.
Raphael Herberg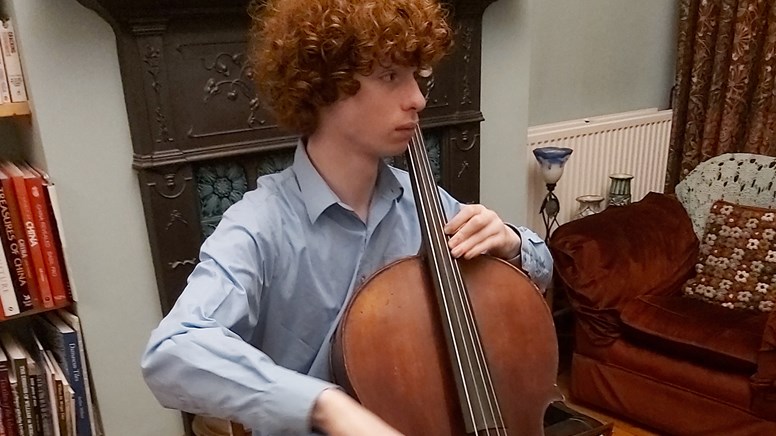 Cellist Raphael Herberg is currently studying for his GCSE's. His musical activities during the past year have included playing with the London Schools Symphony Orchestra at a concert in the Barbican Centre, a tour to Prague and Bratislava and playing with the English School's Orchestra, Youth Music Centre Chamber Orchestra and Ensemble, Fontismere Community Symphony Orchestra and Spring Grove Music Festival in concerts at Cadogan hall and at St. Martin-in-the-Fields.
Raphael also plays the piano, sings in various school choirs and was awarded a School Senior Award for Music. He plays a German cello made by Neuner And Hornsteiner, kindly lent to the scheme by Mrs A Elman.
Sasha Scott
Sasha is studying violin/composition, art, music and music tech at the Purcell School. In the past year Sasha's activities have included: Leading the Chineke! Junior symphony concert at the Queen Elizabeth Hall for Stephen Lawrence Day and also in a Chineke String Quintet at the foundling Museum for the HRH Duchess of Cambridge. She also took part in the Chineke! Spring UK Tour.
Sasha was the Senior winner of the BBC Proms Inspire Competition for young composers and is currently writing an Orchestral Piece that will be performed in the Queen Elizabeth Hall in Spring 2020 by the Purcell School Symphony Orchestra.
Sasha plays a French Guersan 1734 violin kindly loaned to the Scheme by former Governor to the Scheme Miss Jean Harris.
Gianna Cheung

Violinist Gianna Cheung did her Year 4 Assessment at Junior Guildhall last summer and exceeded expectations with her grade achieved. In July she passed her Grade 5 with Distinction and attended a summer course at Hindhead Music Centre. She continues to attend the String Training Programme at Junior Guildhall and perform in school concerts, ensembles and choir.
Gianna won 1st prize in the senior instrument category with distinction in the Merton Court School Music Festival.
Gianna borrows a ¾ size French Mirecourt violin, kindly lent to the Scheme by Mrs L Cornish.
Eddie Hiughes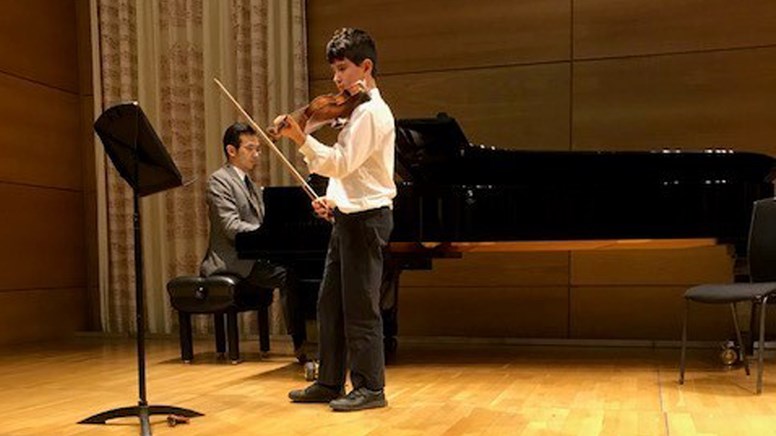 Eddie Hughes studies the violin at the Primary Academy in the RAM. He participated in the NCO under 11 orchestra in 1st violins and has successfully auditioned for the under 12 orchestra 2020.
Eddie has lead the string ensemble at the Primary Academy and was selected to join the Advanced Orchestra at one of the Nicola Bennedetti sessions. Eddie plays a 7/8ths size violin owned by the Loan Scheme and took his Grade 8 in December for which he was awarded a Distinction. Well done Eddie!
Dixie Taylor
In the past year Dixie completed the Year 6 violin course on the String Training Program, played in a String Quartet at the end of year concert and as a soloist played John Ireland's 'The Holy Boy' in the leavers concert.
At his new school Dixie is continuing to learn violin and play in the school orchestra.
He passed his grade 5 exam in the Summer 2019 and borrows a ¾ size German violin kindly loaned to the Loan Scheme by Mrs A Elman.
Sapphire Houston-Ball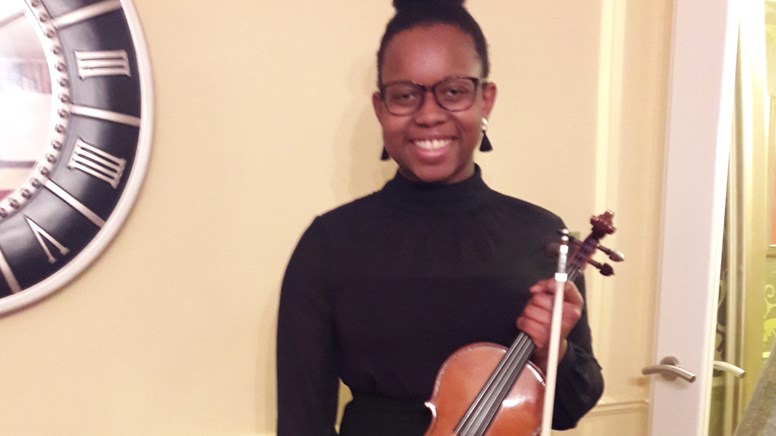 Sapphire is a member of her School orchestra, Dulwich Suzuki Group and Chineke! Juniors Orchestra. Earlier in the year she performed in the Fauré Requiem at Cadogan Hall ith the Dulwich Suzuki Group and at the Purcell Room, Southbank. With Chineke Juniors, Sapphire performed in the 'Imagine Children's Festival' and 'Africa Utopia' at the Royal Festival Hall.
Sapphire plays a violin made by Thomas R Warren, NZ kindly lent to the Scheme by Mr D Husbands.