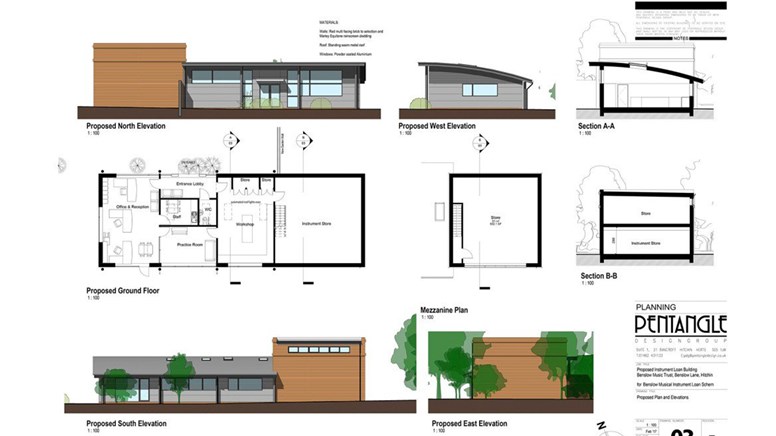 A new, purpose-built home for the Loan Scheme
Since 1932 the Loan Scheme has been helping young musicians to achieve their potential through the loan of a high quality instrument. Now in its 87th year, the Loan Scheme has outgrown its current home to over 850 instruments and bows.
Run originally from central London in 1932 it found its way to its present location at the Benslow Music Trust in the middle of the 1900's where it progressed from a 'portacabin' in the carpark to two rooms in the Main House and from there, in 2013, to a converted suite of rooms within the site.
Generous donations, and in particular the legacy from one person, have enabled the Loan Scheme to plan a new building, purposely designed to house the collection for the future and to address the three most important areas of the charity
- the service that we provide, the storage for the collection and the security that the collection needs.
The new building will -
expand the number of borrowers. the choice of instruments and help more young musicians too achieve their potential and their dream
make room for expanding the number of instruments in the collection and in particular Baroque instruments
improve the service we offer to our visitors and borrowers with a spacious studio for trying our instruments, a reception area, improved office space and parking
improve and expand the luthier's workshop facilities, enabling a more extensive level of service and repair to be offered
provide a fully regulated and temperature controlled environment throughout the building
increase and improve the storage facilities with specially designed space and racking
improve the safety and security of the collection and the Loan Scheme for the future
It is hoped that the building will be opened formally in Summer 2020
Further information and announcements regarding the official opening of the new building will be made as details are confirmed