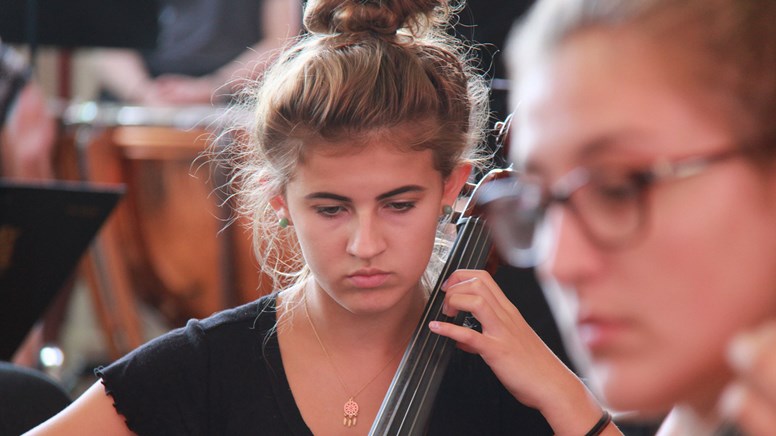 Bravo the two Miranda's
In August, Benslow Borrowers Miranda Busser and Miranda Stinton performed with the Kent County Youth Orchestra's Summer Course 2016 at Ashford, under the baton of the delightful and energetic Caroline Hobbs-Smith.
The cello section were tutored by Avis Perth, one of the highly qualified, experienced and dedicated tutors who work with the orchestra for the first two days of the 5 day course. Repertoire for the summer included Bernstein's Overture Candide and Suite On the Waterfront, Copland's Billy the Kid, and Mussorgsky's Pictures at an Exhibition. This orchestra worked extremely hard on this demanding programme in extreme temperatures reaching 28degrees C on several days and the concert at the Tunbridge Wells Assembly Rooms on Saturday 27th was a great success.
One of the highlights on the 5 days course was the 'in house entertainment' provided by the orchestra themselves on the last evening – Music At Night. Sections, indiividuals and groups of friends created a series of musical offerings to entertain each other and Kent Music staff; renditions of the Arrival of the Queen of Sheba for recorder consort, an 'a cappella' vocal ensemble, and the 12 cellos playing an arrangement of Elvis Presley's Can't Help Falling in Love with You, (arranged by Sophie in the cello section), are to name but a few, and all were great fun and a pleasure to hear.
It was lovely to see and hear the progress that both Miranda's are making. Looking forward to seeing them on the next course!