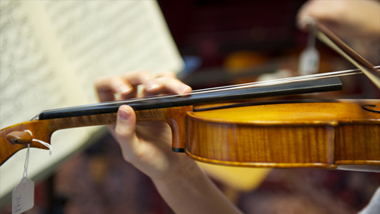 Refundable Deposit
On the day of your appointment you will be asked today a refundable deposit of £200 by cash or card.
£200 is normally the maximum deposit required and covers both bow and instrument when borrowed together, providing that the value of the bow does not exceed £1,000.
A bow, up to the value of £1000, borrowed as an individual item without an accompanying instrument, will require a deposit of £100.
Bows with a value over £1000 will require a separate deposit.
Benslow Music Instrument Loan Scheme reserves the right to vary this in the case of specific instruments by agreement.
Annual Charge
The fee is based on 5% of the value of the instrument.
The minimum Annual Charge you should expect to pay is £100.
Bows are charged separately.
Payment can be made via GOCARDLESS in 10 monthly instalments, or in full for the year. We accept all major Debit and Credit Cards.
You will know the amount of the Annual Charge at your appointment and receive your invoice after the initial four week trial period.
Insurance
Within 24 hours of signing the Terms and Conditions you are required to take out your own specialist musical instrument insurance policy covering the full value of the instrument and/or bow.
Administration Charge
There is an additional administration charge of £5 per year which is added to your invoice.