2019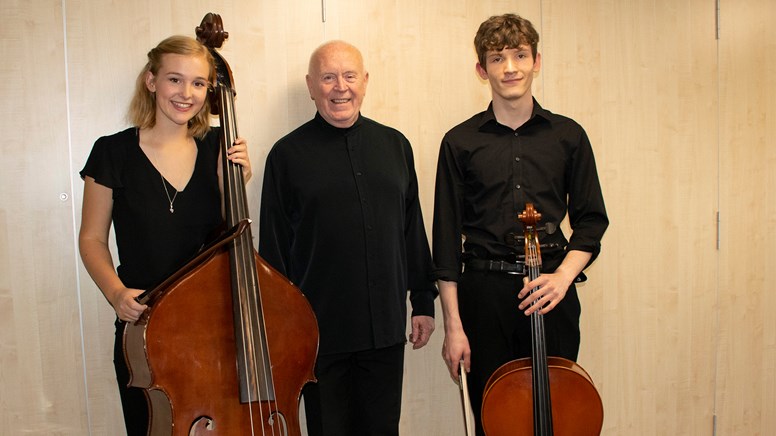 The 2019 Benslow/HCYO award was given jointly to two young musicians this year - Minnie Elliott, Double bassist, who is borrowing an English double bass owned by the Loan Scheme and George Smith, who chose a French Mirecourt cello made by Buthod which is generously lent to the Scheme by Miss E Cobb.
2017 & 2018
No Benslow/HCYO Award made.
2016
Violinist Isaac Barkway is the 2016 recipient of the Benslow/HCYO Award. Isaac is studying at Cambridge University.
2015
Millie Newis, violinist, has just taken up her place at Magdelene College, Cambridge studyiong English Literature. She continues to play with HCYO, Watford Youth Orchestra and also in String Ensembles in Cambridge.
2014
The 2014 winner of the Benslow/Herts County Youth Orchestra Award was Andy Huang. Andy went on to study maths at Warwick University, where he led the University Symphony Orchestra. He continues to play with HCYO.
2013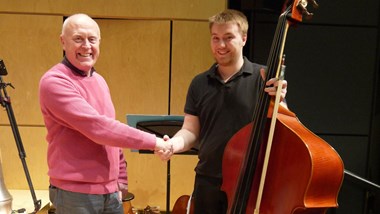 The 2013 award was made to Max Lawrie, aged 17, Double Bass. Max was presented with his award by Peter Stark at the Herts County Youth Orchestra Spring Concert. Max borrowed a contemporary double bass made by Martin Penning of Frome, Somerset and plays regulary with the St Albans Philomusica and the Amadeus Chamber Orchestra. In addition to winning a scholarship into the deHavilland Philharmonic through the Hatfield District Music Festival, Max also won a place to read Music at Magdalen College, Oxford in 2014 where he is an academical clerk in the choir.
2012
The winner of the award for 2012 was violinist Yannick Mayaud, aged 17, from Beaumont School in St Albans. Yannick was presented with his award at the Benslow 80th Anniversary Concert at the Royal Academy of Music on Saturday 14th April 2012.
In 2014 Yannick began his degree in music at Pembroke College, Cambridge.
2011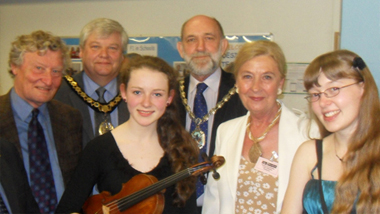 The 2011 Award was presented to violinist Mary Gough.
2010
In 2010 Rebecca Lewis was given the Benslow Award and the opportunity of borrowing a violin. She went on to study English at Cambridge.
2009
Violinist Tom Marlowe was the 2009 recipient of the Benslow Award. Tom went on to study music at York University.
2008
In 2008, the first recipient of the Benslow/Hertfordshire County Youth Orchestra Award was violinist Sally Potterton. Sally is now a freelance violinist, having studied Music at Oxford. In recognition of the help Benslow gave, Sally has now lent a violin to the Scheme in return. She continues to perform and to live in Hertfordshire.