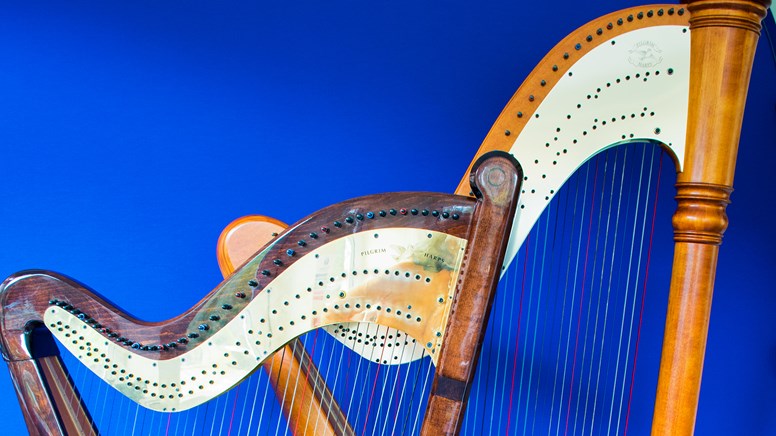 BMILS is very pleased to announce that we have been lent two beautiful pedal harps by The Clarsach Society. Made by Pilgrim Harps, one is a 47 string and the other a 41 string. Both are in superb condition, and were bequeathed to the Clarsach Society by Catherine Dunlop, a Hertfordshire musician, to enable young harpists in need of a good instrument to borrow them through the Loan Scheme.
We are inviting young harpists who are eligible to apply to borrow these instruments. Applications will be processed after the Easter break during the first two weeks of April 2018.
Catherine Dunlop 1927 – 2017
Catherine Dunlop started learning the harp at the age of 9, after her mother saw one in a drawing room and thought it looked pretty. She continued to play the harp while at school, and then studied for three years at the Royal College of Music.
Marriage and raising four children took her away from the harp, and it wasn't until over 50 years later, following the death of her husband, that a chance encounter with a harpist performing on board a cruise ship inspired her to take up the instrument again.
For the last ten years of her life she became immersed in the harp world. She bought a number of lever and pedal harps, and attended harp festivals and congresses both in the UK and abroad. She gave lectures on the history of harps and the making of harp strings, brought famous harpists to her village, Ashwell, to perform, and played at local care homes and hospices. All kinds of harps and all aspects of the harp world interested and inspired her. Catherine facilitated lessons for others by generously lending them her instruments and she herself taught and passed on the passion and enthusiasm which she had for the instrument to others.
She had a particular fondness for Benslow Music, and attended a number of harp courses there, performing herself at one of the concerts organised by the Friends of Benslow Music. Her love of music was also expressed in her membership of the North Herts Guild of Singers.
Catherine Dunlop passed away just before her 90th birthday. In her will, she left all her harps to the Clarsach Society with the wish that the harps should be made available for students who would not otherwise be able to afford such instruments. The Clarsach Society has lent two of her pedal harps to the Benslow Music Instrument Loan Scheme so that this wish may be fulfilled, and because of Catherine's association with Benslow Music.
In Catherine's own words – 'It ,[the harp], has given me so much pleasure and made me feel useful, and hopefully given others pleasure. I want to say to anyone who has taken the trouble to learn and study, never, ever to give up'.
Anne Chorley