Lending an instrument can mean new relationships and new friendships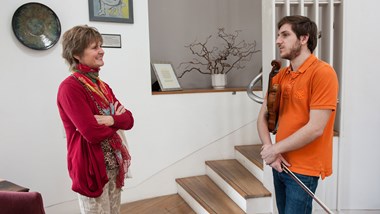 Instruments are very personal, they become part of the owner and part of the family. Each has its own unique voice and character, and the longer it is owned the more special it becomes.
Lending such a personal item is a big decision for the owner. Knowing that this special 'friend' will create new relationships and contacts can be an exciting venture.
We strongly encourage all our borrowers to keep in touch with the owner and to keep them up to date with information about their musical progress.
"In April this year I was introduced to my Benslow loan cello and bow. I have learnt a lot about the owners through the letters we write to each other and I hope the owners have learnt alot about me."
It will inspire a young musician

Lending to Benslow Music Instrument Loan Scheme means that a young talented musician can really benefit.
The tone quality of hand made instuments is far superior; students are able to make a much better sound, this helps them improve their technique, gives them confidence and inspires them to practice.
It can mean a life changing experience for the borrower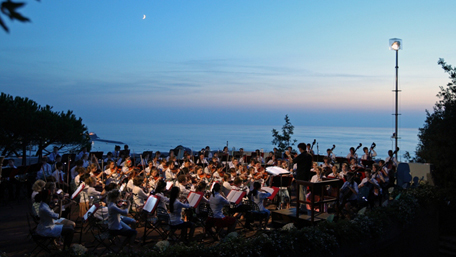 National Children's Orchestra, performing at La Mortella Gardens, Ischia. Photo: Ian Gillett
Lending can help a young person progress. The next generation of musicians comes from all backgrounds and cultures in this country.
With practice comes progress. Many of our younger borrowers are inspired to audition for national youth orchestras and to go on to study music at University or Conservatoire level.
This Summer I have been on tour with the National Youth Orchestra of Wales and have been involved in recording the soundtrack, and appearing in a film called "Hunky Dory" with Minnie Driver....I play a cellist in the school orchestra....look our for the appearance of my Benslow cello..
Giving those with talent the opportunity to progress is vital to the continuation of music and music education, and is fundamental to the ethos of the Benslow Trust and Benslow ILS.
It can be a life changing experience for the instrument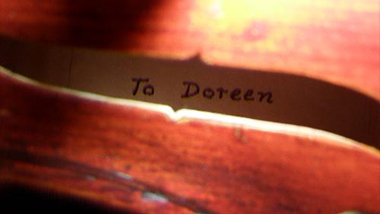 Instruments are like people. They need plenty of tender loving care, and as part of that care they need to be played. Playing allows the tone to develop and become richer, and the instrument to speak more freely.
My husband made this instrument himself. It took him 9 years to make and when our granddaughter wasn't able to continue with lessons we wanted it to be played, so we decided to lend it to Benslow. It is very important for instruments to be played.
It is good for the health of your instrument to be played. Over time unused instruments can deteriorate and irreparable damage can occur.
Who we lend to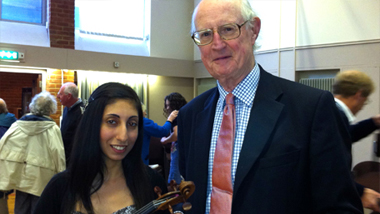 We lend to students aged from 7 to 25 from all types of educational establishment.
They must be domiciled in the UK.
Undergraduate and postgraduate students borrowing instruments are allowed to support their studies by teaching, but we do not lend to professional musicians.
"I am proud of my violin and think I take more care of it because it does not belong to me. Thank you again for the loan of my fantastic violin."
We lend to students initially for a minimum of three years to enable them to make progress. This can be extended at the discretion of the owner.
Whilst on loan to Benslow Music Instrument Loan Scheme, the instrument remains the property of the owner.