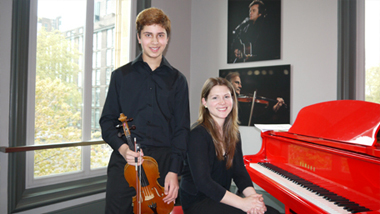 Andrew Samarasekera, a pupil of Lutzia Ibragimova at the RCM Junior Department, performed at the Elgar Room in the Royal Albert Hall on Saturday 4th May. The occasion was a joint coffee morning recital with two other violinists, also pupils at the College.
Andrew has been borrowing an instrument made by George Pyne from the Instrument Loan Scheme for a number of years and his enormous commitment to music has shown in the progress he has made. Performing the Carmen Fantasie by Sarasate with great aplomb, his intonation was assured, and technical difficulties such as double thirds rolled out from under his fingers with ease. Despite the calm exterior he instilled the music with depth and emotion producing a performance of great maturity. His accompanist, playing on a red Yamaha piano donated by Markson Pianos, previoulsy owned by Elton John, was excellent.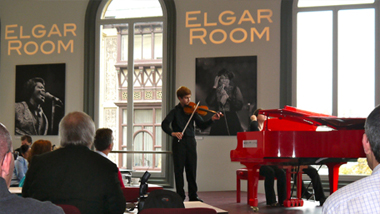 In recognition of Andrew's tremendous progress and commitment to the violin and to music, Benslow ILS has been able to offer him the use of a Degani, owned and generously loaned to the scheme by Mrs Patricia Milne of Cheltenham, Gloucester.
Andrew has kindly agreed to perform a fundraising concert in aid of Benslow ILS towards the end of the year and we look forward to hearing him play on this instrument.