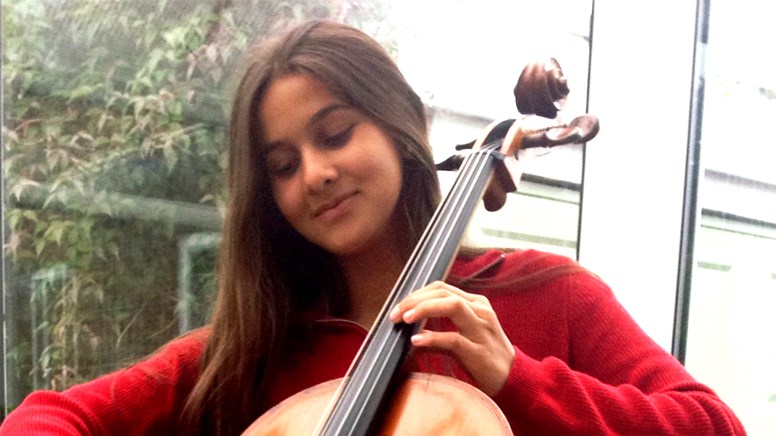 Ria Saini - Current borrower of the full-size cello generously lent by Mr and Mrs Paul Collins.
The arts in general, and music in particular, have always been a significant part of the lives of my wife and me. Both of our respective parents were musical and heavily involved in solo vocal or choral singing, while my wife taught music at secondary schools back in the 1970s while singing with such groups as the Schütz Choir (under Roger Norrington) and the Monteverdi Choir (under John Eliot Gardiner). During my time at St Andrew's University (early 1960s), students were encouraged to immerse themselves in music-making whenever the opportunity arose, regardless of technical ability. For me this mostly comprised singing on the one hand - Chapel Choir and Madrigal Group – and playing the piano as an accompanist – ranging from solo vocal or instrumental recitals up to performances of a Mozart opera at the Edinburgh Festival Fringe.
After University I quickly joined The Bach Choir in London (initially under David Willcocks, and subsequently David Hill), and remained a member for almost 40 years, taking a break for a few years in the late 1970s. I currently sing with the Gloucester Choral Society and the Three Choirs Festival Chorus. Both my wife and I took active roles in the management and promotion of the International Organ Festivals in St Albans for more than 15 years up to 1997.
My career has been focussed on the arts. I worked at the Arts Council for 19 years and then spent 12 years at Trinity College of Music (now Trinity Laban Conservatoire of Music & Dance). As it's Head of Finance and General Administration, I was one of the senior members of staff responsible for achieving the sale of the College's premises in the West End of London and its total relocation to the King William Building, part of the former Royal Naval College and a World Heritage Site, in Greenwich towards the end of 2001.
Against this background, therefore, it is not surprising that our two daughters, Katharine and Hannah, were encouraged, even expected, to learn an instrument from a reasonably early age. Both received piano lessons and progressed satisfactorily through the various Associated Board examinations. In addition, while Katharine took up the flute, Hannah was offered the cello as a complete contrast. They were both equally successful in their respective instrumental AB examinations. When she went to University in 1995, Hannah was encouraged to take her cello with her. However, the shared student accommodation to which she was assigned was not well suited to practising or playing, and the cello soon assumed less preference in her academic and recreational life. It remained unplayed and in its case for a number of years.
The cello was purchased from Hamilton Caswell, a well-known dealer in Bristol in October 1992. It was described as coming from the "Schmidt School" in Markneukirchen, a small town in Saxony prominent for the manufacture of traditional stringed instruments, and was made in the early 1900s. A cello bow made by Roderich Paesold was also purchased from Hamilton Caswell at the same time; the Paesold company was founded in the middle of the 19thcentury based in Bohemia and remained a family business specialising in bow-making. Roderich Paesold's own company was eventually integrated with Boosey & Hawkes in 1981.
I was aware of Benslow's existence from my work at Trinity but it was a chance meeting with Claire Talbot, the Development Co-ordinator at the Trust, early in 2003 that subsequently led to us making both the cello and the bow available for the Trust's Instrument Loan Scheme in June of that year. Since then the cello has been loaned to six students at different stages in their musical training, ranging from a pupil at preparatory school to undergraduates at music college and university. The bow has not always travelled with the cello, and for the past 13 years has been loaned out separately.
My wife and I are delighted that our cello is being put to such good use through the Loan Scheme, and we are pleased to be able to support the development of young talented musicians in this way. Wherever possible, we have met the students and heard them play the cello at concerts or recitals, and will continue to do so for as long as possible.
Paul Collins
3rd March 2019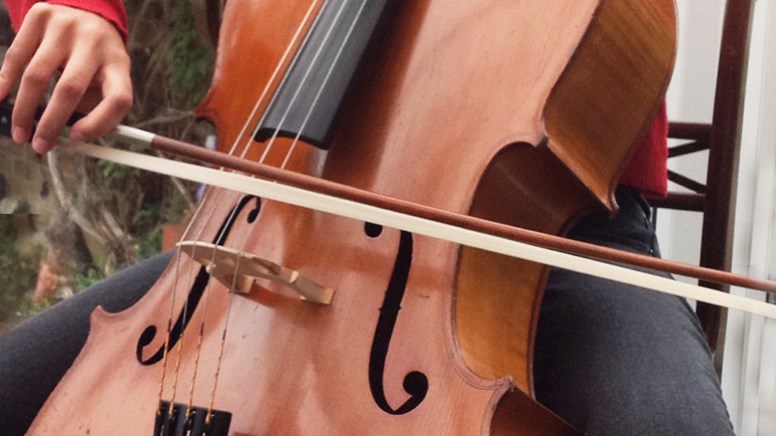 The 'Schmidt School' cello, made in Markneukirchen c.1900, generously lent to the Benslow Music Instrument Loan Scheme by Mr and Mrs P Collins