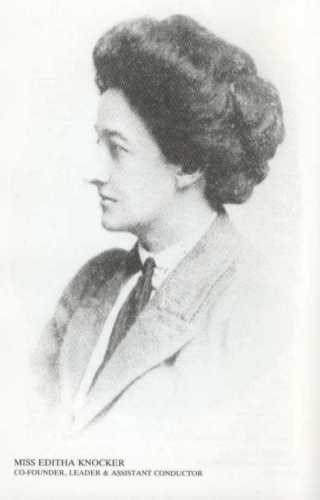 Editha Knocker 1869 - 1950
"Every student who came under the spell of this great teacher (Knocker) will know all her lessons were illuminating and constructive." Mary ibberson

Editha Knocker was without doubt a remarkable woman born ahead of her time; an author and translator, international fencing champion, she was bilingual (German and English), a talented violinist, an inspiring early female conductor; a founding member and conductor of York Symphony Orchestra, a teacher at Royal Academy of Music and Principle of her own violin school, teacher of Sidney Griller, Gerald Finzi, Basil Cameron and Sybil Eaton.
Early Years
On 2 March 1896 Editha Knocker was born in Exmouth St Thomas, Devon, fifth child of Rosa Hensley and Naval Commander Hugh Horatio Knocker who died shortly after her birth. After the death of her husband, Rosa moved Editha and her siblings to York.
Little is known about Edittha's early training as a violinist, but suffice to say she was a talented violinist and from 1886-91 she studied with the legendary teacher Joseph Joachim (arguably the greatest violinists of the 19th century.) at the Königliche Hochschule für Musik in Berlin and became leader of his student's orchestra. However her own career as a violinist was cut short after a diagnosis of neuritis in her arm and by the 1890's Editha Knocker had become a teacher at the famous Mount School in York.
York Symphony Orchestra
1898 Knocker co-founded with T. Tertius Noble the York Symphony Orchestra oft (described as the best amateur orchestra in the country and was both lead violin 1898-1915 and Assistant conductor 1913-15.
"Ever since its inception, Miss Knocker has been the able leader of the band, and her knowledge of the technics of stringed instruments - in which section are practically all the amateur members - will be of untold value in the preparation of works to be performed " Yorkshire Chronicle 7 Aug 1913.

The Yorkshire Post, 1913 "It is not often that one experiences the novelty of seeing a lady conductor or a conductor conducting with the left hand, but last night both curiosities were exhibited in the case of one individual. As a form of recognition and appreciation of the invaluable services rendered to the York Society by Miss EG Knocker, an enthusiastic musician of the city it appears the Committee have conferred upon her the position of co-conductor. Admitting that from this point of view this was doubtless the handsome thing to do, it is hoped the step will not impair the efficiency of the orchestra upon the occasion of their public concerts. For the effective guidance of a mass of players such as that which comprises the York orchestra, composed as it is mostly of amateur performers, a firm, decisive, bold, commanding."
St Petersburg
In 1913 Editha was invited to join Leopold Auer as his assistant at the Conservatoire of St Petersburg, His students at the time included Mischa Elman, Jascha Heifetz and Efrem Zimbalist. However the outbreak of World War One meant Editha had to return home to York where she also resigned from the YSO and took up war work as a District Nurse.
London
After the war in 1916 Editha Knocker and her violinist student Sybil Eaton moved to London, where in 1919 Editha conducted the New Queen's Hall Orchestra at Wigmore Hall. In 1921 she published her first book The Making of a Violinist and by 1925 she was teaching at the Royal Academy of Music where pupils included Watson Forbes and Sidney Griller.
The Editha Knocker School of Violin Playing
In 1926 she decided to strike out on her own founding her own violin school, The Editha Knocker School of Violin Playing in Finchey Road. Pupils include Leah Willoughby, Gerald Finzi, Phyllis Ebsworth, Basil Cameron, Jean Stewart, Sybil Eaton and Mary Ibberson – who went to found the Rural Music School – latterly Benslow Music Trust.
A letter to The Times
Around this time Editha Knocker met Edith Croll and in 1932 the wrote a joint letter to The Times setting up their Violin Loan Scheme which was endorsed by Sir Henry Wood, Sir Henry Walford Davies, Sir Landon Ronald, Professor E J Dent, Walter Willson Cobbett and Samuel Courtauld.
Croll and Knocker recognised the need for an organisation which could offer "incalculable value" to aspiring young musicians. Their letter called out for 'Good Violins Lying Idle' to be repurposed for use by promising students whose artistic development was being held back by the prohibitive cost of good quality instruments.
Rural Music Schools
When Ibberson founded the first Rural Music School founded in Hitchin, Herts in 1929 Editha Knocker joined the Advisory Board.
RMS "..was an idea after her own heart (Editha Knocker), she backed it with generosity and enthusiasm. She enlisted the support of eminent musicians of the day, she gave her own time and skill freely in rehearsing and teaching, and she backed appeals for money by personal example… Thousands of amateurs in the Rural Music School Movement have cause to be deeply grateful for her life and work." Mary Ibberson.

In 1933 at the Annual Founders day for Rural Music Schools Editha Knocker conducted the instrumentalists - Harold Child of The Times reviewed the event writing "I do not think I have ever felt an atmosphere more charged with some sort of creative imagination…" By 1938 Editha Knocker was Chairman of RMSA Rural Music Schools Council. The outbreak of the Second World War in 1939 coincided with Knocker's 70th birthday and she and Edith Croll decided to move Edith Croll's family estate of Glen Uig, in Lochaillort, Scotland.
During and after the war years in Scotland, Editha Knocker translated Leopold Mozart's Treatise on the Fundamental Principles of Violin Playing the major work of its period on the violin, and this was published in 1948.

In 1950 Editha Knocker died aged 81, in Scotland. The RMSA created the Editha Knocker Memorial Fund, set up and administered by Sybil Eaton – committed to promoting rural music schools to spread instrumental lessons. The President was Ralph Vaughan Williams, Adrian Boult as treasurer and Basil Cameron held other board positions. Well-known musicians gave benefit concerts for the Editha Knocker Memorial Fund including The Amadeus Quartet (1953) and the soprano Janet Baker (1967). Editha Knocker's book Violinist's Vade Mecum was published posthumously in 1952.

"With her wide experience, her humanity and her deep love of music, she was an inspiration to us all." Mary ibberson