Meet Danya Jayasinghe Rushton!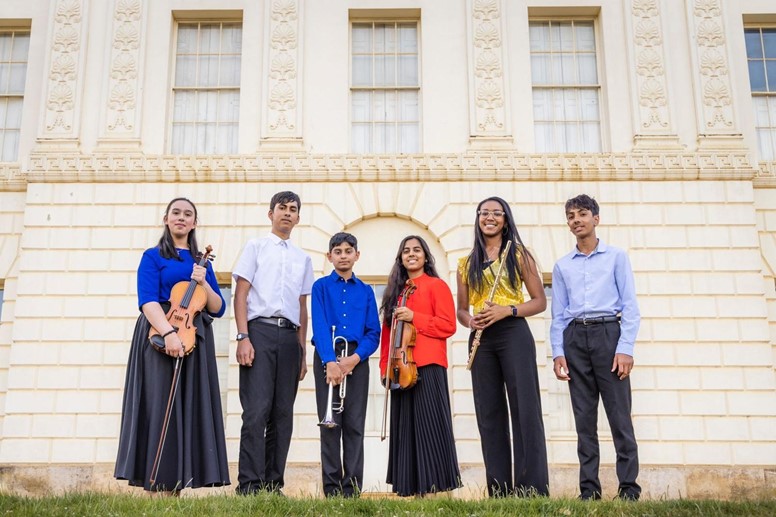 There are two parts of every BMILS borrower's story, the story of the development of a young artist and the story of the instrument loaned to them. As part of our 90th Anniversary digital event, we are looking in more detail at the stories of some of our borrowers and their instruments looking at the effect borrowing a high-quality instrument can have in shaping and furthering young musical talent as well as the lasting impact of loaning an instrument to the scheme. We are delighted to share the experience of one such borrower, Danya Jayasinghe Rushton and her viola...
Danya's Story
Danya Jayasinghe Rushton is 16 years old and has been playing the viola since she was 10. She currently studies viola with Yuko Inoue at the Junior Royal Academy of Music. She joined the Purcell School of Music in September 2020. She is a member of the Chineke! Juniors, a member of the National Youth Orchestra of Great Britain and was a London Philharmonic Orchestra Junior Artist 2020-21. She has performed at venues in the UK including Royal Festival Hall, Queen Elizabeth Hall, Purcell Room, The Palladium, Kensington Palace, Eltham Palace, Kenwood House and Cadogan Hall.
Danya's viola
Danya plays a 16" English viola by William Luff, Dorset 1971. Danya has borrowed a viola from BMILS since 2018. She first borrowed a 15 ½" John Cresswell 1990 and has had her current instrument since February this year.
Playing in Chineke! Juniors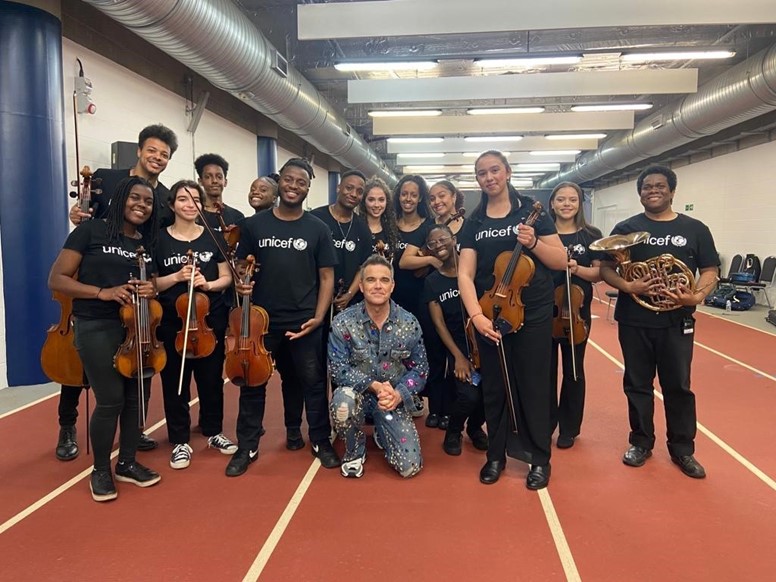 Danya has been playing viola with Chineke! Juniors since 2018 when she was 12. Founded in 2015 by Chi-chi Nwanoku OBE, the Chineke! Orchestra and Chineke! Juniors provide outstanding career opportunities to Black and ethnically diverse classical musicians.
Danya performed as part of the Chineke! Juniors on Britain's Got Talent in 2021, reaching the semi-finals, and earlier this year, she played with the ensemble and pop star Robbie Williams in the half-time performance of Soccer Aid 2022 for UNICEF, which was broadcast live on ITV.
Dido Belle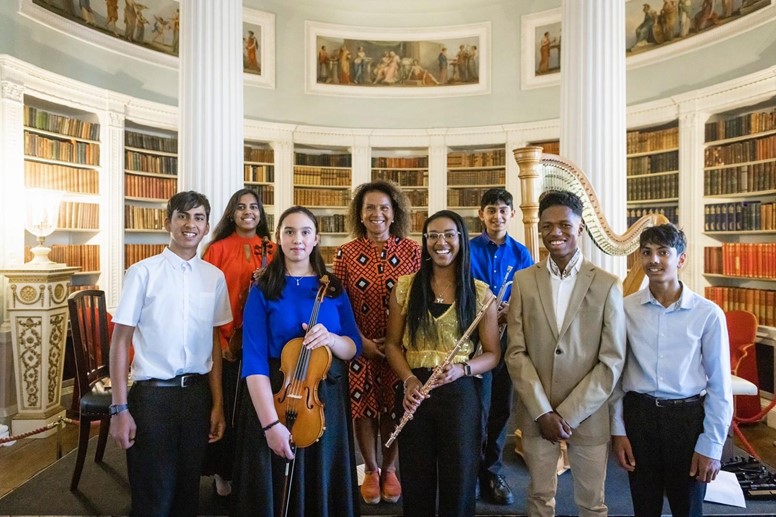 In June of this year, Danya and the Chineke! Juniors performed a concert at Kenwood House organised by English Heritage to mark the 250th anniversary of the landmark 1722 Somerset v Stewart case which contributed to the abolition of slavery in England. The case was ruled on by William Murray, Lord Mansfield who lived at Kenwood House and took in the daughter of his nephew, Dido Elizabeth Belle. Dido was of half African descent and had been born into slavery. Murray gave her a home and an education at Kenwood and raised her as a free gentlewoman.
English Heritage commissioned Chineke! Juniors to compose two pieces inspired by Dido's life: Dido Belle: A Musical Voyage and The Somerset v Stewart Case: Trial & Triumph, which Danya performed with them at the anniversary concert.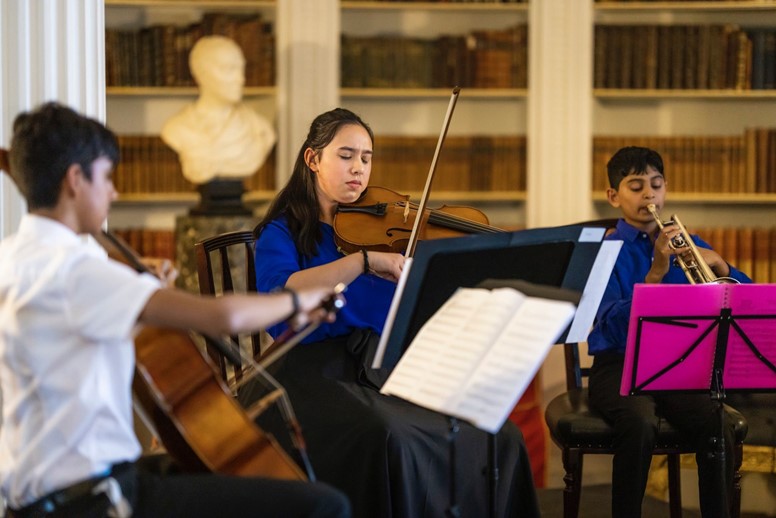 The event was featured in The Independent and The Evening Standard and Chineke! founder Chi-chi Nwanoku was interviewed about the commission by Sean Rafferty on BBC Radio 3's In Tune programme. Listen here (starts 11'10, the Dido Belle piece starts 19'31)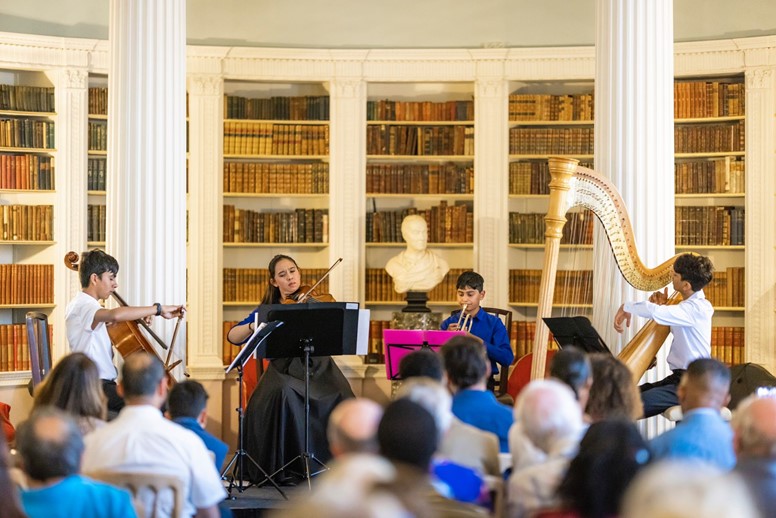 A Summer of Music
Danya also managed to complete her GCSEs in May and June! Over this summer, Danya will be playing the BBC Proms with the NYO and performing internationally with the Chineke! Junior orchestra at the Lucerne Festival, Konzerthaus Berlin and Concertgebouw Amsterdam.
Many congratulations to Danya on a very exciting year so far, we are enormously proud of all she has achieved and of the part her BMILS viola has played in her success!
The Story of the viola borrowed by Danya
The viola borrowed by Danya is 16" English viola by William Luff, Dorset 1971. The viola is generously on loan to BMILS from the Herrin family of Oxford and was originally loaned to the scheme by Dr. Eleanor Herrin, now deceased and continued by her daughter Professor Judith Herrin a leading Professor of Byzantine and medieval history.
Eleanor grew up in Oxford, the fifth of seven children in an Edwardian family. Her father, Ernest Burchardt married Viola, daughter of the painter George W Joy, famous for The Bayswater Omnibus.
Eleanor was educated at the Society of Home-Students for women (which became St Anne's College, Oxford) and went on to study medicine at the Royal Free hospital in London. It was whilst waiting in the queue for standing seats at the Royal Opera House that she met her future husband Philip Herrin who she married in 1939. They had a daughter Judith, bur tragically Philip was killed in the Second World War. Eleanor never remarried. She was a member of a pioneering all-female medical practice created in Oxford during the second world war and in 1971 she was a co-founder of the Jericho health centre.
Eleanor was also a keen musician and formed a string quartet in which she played the viola which is on loan to BMILS. She died in 2014 aged 99 years old.