On Being a Benslow Borrower….
Olivia Trezise & Kate Romano
A note from Olivia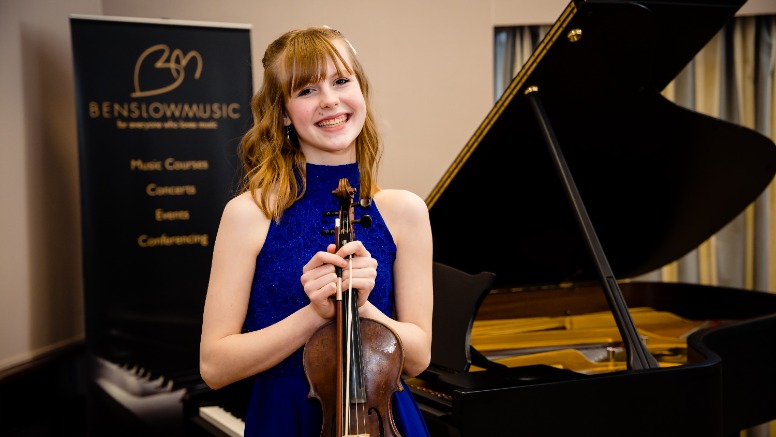 Where do I even begin when asked to explain 'what does The Benslow Instrument Loan Scheme mean to you?'
My name is Olivia Trezise. I am aged 13 and have been using the Benslow scheme for 3 years now, borrowing 3 beautiful, high quality, unique violins from all over the world and all through the years with some of my violins dating back to the 18th century.
I will be forever grateful for this scheme in so many ways - from the wide selection of beautiful instruments to the ever so friendly people making this scheme exist and the most fabulous experience I will remember forever. Knowing that the violins I have borrowed have had a tremendous story of history and journeys though their time is an opportunity I could only dream of and when playing the violins, I can't possibly think of a word which sums up that feeling I get.
I have contacted previous owners of the violins to let them know how much their once much-loved violin is still being loved always and forever. I feel that being able to do this is a truly special connection and a violin is not just an instrument but a storyteller and a way of making friends for life. Before I knew about the Benslow scheme, I would have never thought that at such a young age I would get the opportunity to even try out violins like the ones I was offered from Benslow and the fact that I could take them home, knowing that it wasn't a 'forever' choice. The Benslow Instrument Loan Scheme is a scheme which comes from the heart and puts the heart into music - I will never be able to thank Benslow enough for this opportunity and I will be forever grateful. Thank you Benslow!
A note from Kate Romano, Olivia's mum
The Benslow instrument loan scheme is unique and extraordinary. In amongst all the opportunities and programmes designed to inspire and enable young people to play instruments, its aims are simple, yet visionary: Benslow believes in the importance of giving young musicians the opportunity to play on fine quality musical instruments.
Why loan a child a very good quality instrument when they are still learning how to master skills, technique and repertoire?
It's an incredible lesson in ear training. Asking a young musician to differentiate and choose between 4 violins and 3 bows (and the many combinations they throw up) demands intense listening skills. Young musicians learn to differentiate between subtleties of sound, texture, colour – all essential for great musical development. And they make these choices in a safe environment, where they can take risks and explore their own musical tastes as they develop.
The Benslow scheme inspires and ignites imagination: what a thought… that the violin you hold in your hands may be over 200 years old…that it may have been played at London's famous Hanover Square concerts…or in the pleasure garden concerts at Vauxhall… or the very first Proms at the Queen Elizabeth Hall in the late 19th century… It doesn't really matter whether it did or not. For a young musician to wonder at the possible extraordinary lives of these instruments, to hold a piece of 'living history' in their hands and become part its story is a powerful emotional and physical experience.
And finally – perhaps most importantly - Benslow is about having trust and faith in young people. Children tend to take great care of very special things when they are trusted to look after them. Even the very youngest children develop very strong bonds with their musical instruments. Being given opportunity to play a great instrument sends a strong message of belief to the young musician in their ability and potential. It says 'we value music and we value you' - what an exceptional boost of confidence that can give a young player.
Livvy is now playing on her third Benslow violin. I am eternally grateful to the Benslow scheme, to the knowledgeable, passionate and friendly professionals who run it and have made each 'choosing an instrument' one of the highlights of her life. I have no doubt that Benslow is one of the most important and significant aspects in her musical development and has instilled a deep life-long love of music and the violin.
Olivia Trezise - Violin
Olivia started learning the violin at the age of 5 and was taught by Naomi Morris at the North Hertfordshire Music School for 7 years. At the age of 8, she won a place in the National Children's Orchestra Under-Tens and has been a member of the age-banded orchestras every year. She currently plays first violin with the NCO Main Orchestra and has enjoyed taking part in performances at Birmingham Town Hall and the Queen Elizabeth Hall (South Bank). She is principal violinist of the NCO Easterlies Orchestra who meet once a month in Cambridge, conducted by Alex Laing.
In 2017, Olivia joined the Royal Academy of Music (primary school) and in 2018, she started Junior Guildhall where she now studies violin with Ruth Hahn and leads the Guildhall Junior String Orchestra.
She has performed as a soloist at the Guildhall Open House Concerts, Ashwell Festival (Bach concerto for violin & oboe with Jo Laing), Baldock Festival (Haydn G major concerto), Ashwell-at-Home Young Musicians Concert and in many school concerts. In December, she will perform the Haydn G Major concerto with the Haydn Collective at St Martin's Church, Salisbury.
Olivia is very grateful to be part of the Benslow Musical Instrument Loan scheme. She is currently playing on an early 19th century George Craske English violin.
Olivia is passionate about chamber music and plays in the flourishing 'Acorns' String Quartet, formed five years ago by Naomi Morris who continues to coach the young players once a week. They have performed extensively at private and public venues in the Hertfordshire area.
Olivia is a 13 year old student at Knight Templar School (year 9). She plays a very pro-active part in musical life at the school as performer, singer, conductor of school choirs and composer. One of her songs has been broadcast on BBC Three Counties Radio. In her spare time, Livvy loves writing and making shows and is a committed climate-change activist.
Kate is a member of the Goldfield Ensemble