A generous legacy has made the new Benslow Instrument Loan Scheme building possible. Please help us complete it for young musicians of the future
To complete the interior of the Loan Scheme building we are aiming to raise £50,000 between by April 2020.
We are asking our borrowers and supporters to help us raise a minimum of £100 each through activities and sponsored events. This equates to raising just £12.50 a month, approximately £3 a week for us.
Run originally from central London in 1932 the Loan Scheme found its way to its present location at the Benslow Music Trust during the 2nd World War. Over the years the scheme has grown, moving from a 'portacabin' in the carpark to two rooms in the house and most recently to a converted suite of rooms within the site.
Due to the generous legacy of one person it has been possible to plan a new purposely designed building to house and secure both collection and the Scheme for the future. The project is being funded through Loan Scheme reserves.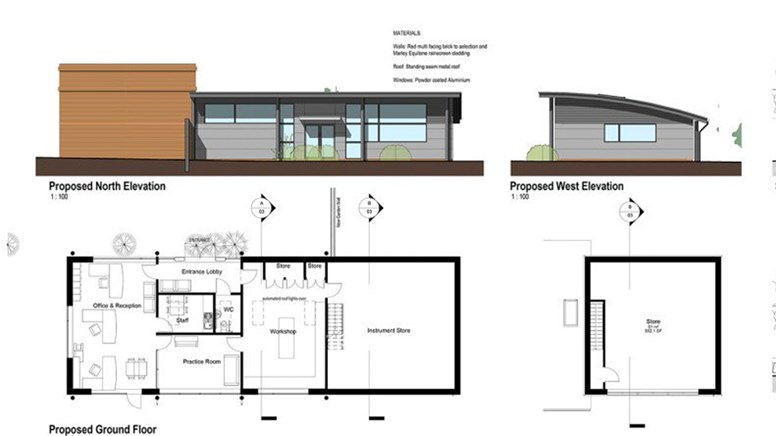 What will the new building do?
The new building has been designed to address the three most important areas of the charity -
the Service that we provide, the Storage for the collection and the Security that the collection needs
The new building will -
- expand the number of borrowers and the choice of instruments and help more young musicians
- improve the service we offer to borrowers with a specially built studio and improved administrative areas
- improve and expand the luthier's workshop facilities and enable a more extensive level of service and repair to be offered
- increase the storage facilities with purpose built facilities and specially designed racks
- provide a fully regulated and temperature controlled environment throughout the building
- make room for increasing the number of instruments in the collection and include baroque instruments
- improve the security and safety of the collection on site
Click the link Fundraise for BMILS to start fundraising for the Loan Scheme
Thank you for your support