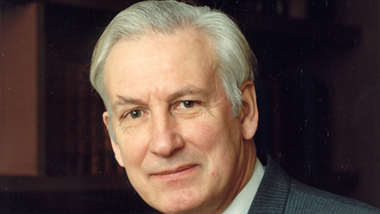 The Benslow Instrument Loan Scheme was saddened to hear that Professor Louis Carus died on August 19th after a short illness at the age of 84. Professor Carus was a staunch supporter of the Instrument Loan Scheme and later became a patron and a consultant. His influence helped it to continue in difficult times and he himself loaned a French Leon Mougenot violin to the Scheme and personally funded and organised concerts to raise money for the Scheme.
Professor Carus came from a musical family and his mother, Enid Revell, was a professional pianist who studied at the RAM. His first connections with the Loan Scheme came in 1936 when he was lent a three quarter size violin. In an interview given in 2009 he said,
"the first time I played it I knew immediately, instinctively, that I could achieve so much more easily what the music in front of me required."
At Rugby School from 1941 -1946, Professor Carus studied the violin with Alfred de Reyghere, who lent him the 1710 Grancino violin which he played for many years. The experiences of being able to borrow high quality instruments convinced him that such opportunities could inspire and enhance the playing of young musicians. As consultant to the Loan Scheme he was firm in the belief that an awareness of quality was an important aspect of choosing and recognising a good instrument, one "that is capable of matching the beauty of great music".
Studying at the Brussels Conservatoire with Alfred Dubois, mentor of Arthur Grumiaux, and with William Kroll at the Peabody Conservatory in Baltimore, USA, Professor Carus was influenced above all by the music of Bach, Handel, Mozart, Beethoven and Brahms. These composers became the foundation of his love of music.
During his long and distinguished career as both performer and teacher Professor Carus was Head of Strings at the Royal Scottish Academy of Music and Drama and co-founder of the Scottish Trio, the Clarina Ensemble and the New Music Group of Scotland. He was leader of the Northern Sinfonia and became Principal and Dean of Faculty at what is now the Birmingham Conservatoire of Music in 1975. His association in one way or another with many Scottish orchestras and chamber groups speaks clearly of his commitment to promoting and developing music-making in Scotland and personally regarded the experience of ensemble work as ultimately the most satisfying. Professor Carus was dedicated to maintaining his links with many groups and institutions throughout his life, even performing at Rugby School on Foundation Day in 2004.
For the past year Professor Carus had been living in a care home in Glasgow. Until very recently he was still playing the violin, taking a great interest in world events, and in music particulary and seeing friends and family.
Professor Carus funeral will be held in Glasgow on Thursday 6th September and will be followed by a memorial service at St Endellion Church, Cornwall and an event in London at a later date.