Harry has been a Benslow Borrower for the past 5 years, first coming to the Loan Scheme at the age of 8. His mother Cathy applied to Benslow for a cello. She hoped that by borrowing from us they would be able to give Harry the chance to play on better instruments which would develop his sound and inspire him, and give them the opportunity to save towards buying him a good full size cello when the time came.
At the time Harry's teacher, Peter Wilson, wrote -
"Harry has been learning with me for the past 2 years....He has made rapid progress and is already planning to audition for the National Children's Orchestra this year. .....he is already performing either as a soloist as part of school performances or as a chamber musician with his musical family."
At approximately Grade 4 standard Harry was already working hard and Peter told us that he was a natural musician, and keen to learn with every opportunity.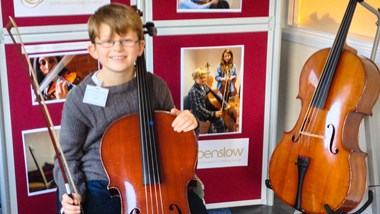 Harry came to Benslow with his family, tried out several half size instruments, and having decided which he liked best, took away a French instrument made around 1920-30 together with a bow. This instrument was lent to the Scheme in 2008 by Mr. Eccles, who kindly lent several other instruments to us as well.
In 2014 Harry took part in filming at Benslow for our DVD, "A Charity to Inspire'.
Going from strength to strength and benefitting from the tone quality of the French-made instrument, Harry was successful in winning a place in the National Children's Orchestra. He has continued being successful in his auditions through each of the age-banded orchestras and is this year a member of Main Orchestra 2018.
Here's Harry (3rd from right, front row) with his Benslow cello, on the Under 11's Course in 2015.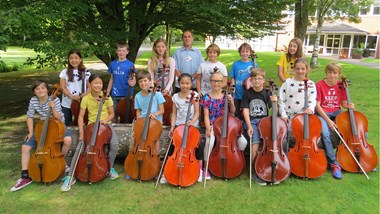 Performing regularly in chamber concerts with his mum and dad at his local church in Rugby, at his Grandparent's local church, St.Martin's Worcester, and in the photo below at his Grandfather's Rotary President's Evening in Worcester, Harry has helped to raise funds for the Loan Scheme,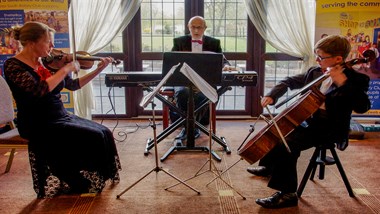 and in 2017 he won a place to study at the Royal Academy of Music Junior Department under Božidar Vukotic. Having grown, Harry has now moved onto a '7/8ths' size.
He applied to upgrade his instrument writing
"it would be fantastic to have a 7/8ths cello for my new year at the Junior Academy (Royal Academy of Music).....In the last month (or so) I have won three trophies on cello at the Leamington Spa Competitive Festival..."
Harry's current teacher Božidar wrote in support of Harry's application for a 7/8ths cello -
"Harry is an excellent student and very gifted young cellist........I highly recommend him for all the support you can give him."
Harry now borrows a 7/8ths German cello, lent to the Scheme since 1995 by the Loan Scheme's very own Chairman of the Governors, Mr Tony Aston. It has been a very popular instrument and has helped seven other students before Harry.
In March 2018 Harry won the Junior Section of the Royal Academy of Music Cello Prize. Fantastic Harry! We are very proud of you.
And the wonderful news this Autumn 2019 is that not only is Harry raising funds for the new Loan Scheme building with a solo recital, he has just been successful in winning a place in the National Youth Orchestra for 2020. Fantastic.
Keep following Harry here - we will keep updating you with news.