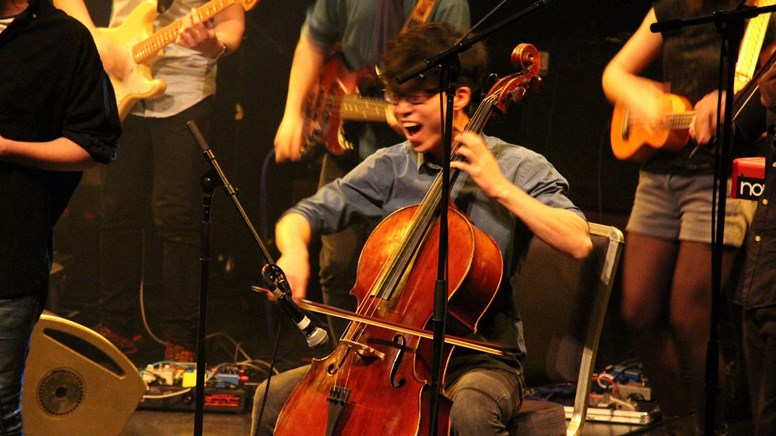 Benslow Borrower Jinseog Lee has been borrowing a cello for over six years. As part of his Annual Update to the Charity he wrote us this lovely letter and photos telling us how he was using his Benslow Cello during his studies at UCL where he is reading Medicine.
Dear Benslow,
Having started at UCL to study medicine in 2012, (I am currently in year 4 of 6), I am now at the stage where I can develop the quality of my playing at a reasonable pace, and, being free of the constraints of the school programme allows me to pursue a wider and more adventurous range of musical projects in which to enjoy my cello playing.
Amongst these have been the opportunities to perform as part of the band for musical theatre shows, which was an entirely different dynamic to playing in an orchestra, as now the score lent itself to a more tangible narrative, and I had to keep in mind what the actors were doing, and at what stage in the story the performance was at. Most excitingly, we put on Once, the Musical, last year during term 3, where the actors were also the musicians and played instruments on stage whilst moving, acting and singing. We began with a 30 minute folk-style jam, with the actors swapping in and out of the ensemble, sitting down with a drink to chat to the audience members in character, whilst those playing music produced between us a raw, energetic conversation akin to the jams often heard in the Irish music scene. I thoroughly enjoyed these experiences, as my phrasing would change and adapt to complement the actors' movements, their lines and their singing.
However, my most fulfilling project was a show called Rhapsody: A Live Music Concert, which I founded and directed, and which is now an annual production put on by UCLU Live Music Society, for which I served as president last year.
It was inspired by a performance of Viva la Vida by Coldplay that I was part of when I was 15; the song had been rearranged by my brother, and all of it was played live by the most advanced musicians that we knew at the time – a full string ensemble, 2 percussionists, a pianist, a keyboardist, and all of us singing. We performed it to a thousand people at out annual Christmas Concert, and it is still one of my favourite memories of perfomring. The entire audience joined in during the bridge, the sound engineering was done so perfectly that each stroke of our bows sent a wall of sound into the crowd, and it was the first time that I couldn't help myself grinning ear to ear during a performance.
I wanted as many musicians as possible to know what such a euphoric musical experience was like, so I began Rhapsody, which was exactly the same concept, but with a dozen songs instead of just one: 12 numbers, each reinterpreted by highly experienced composers into a new and exciting piece for a large ensemble, intended to give both the audience and the performers a thrilling and exhaustively satisfying experience. It was more successful than I could have imagined, and I had many of the cast and audience coming up to me individually to say how the show had got them back into playing music after a long hiatus, had encouraged them to play more, and had reintroduced them to the love of music and performing – some of them had never enjoyed music to that degree before. I spent almost every day that year carrying the cello with me, playing with them, and demonstrating phrasing and technique, as well as giving them a good amount of energy to play off, to encourage them to embrace their performances and be more expressive.
There is much more that I am doing with the cello that I could write about – I've grown up playing it and I think that it would be so strange to ever not play it, that if ever there comes a day where I am without one, a cello would be the first thing that I buy as soon as I save up enough. I can't tell you what a joy and privilege you've granted me with this cello – it has been my friend and companion through many years and many wonderful experiences, and I hope that I am able to keep renting it for many more years to come.
I cannot thank you enough for the times that I have had with it so far.
Yours sincerely,
Jinseog Lee